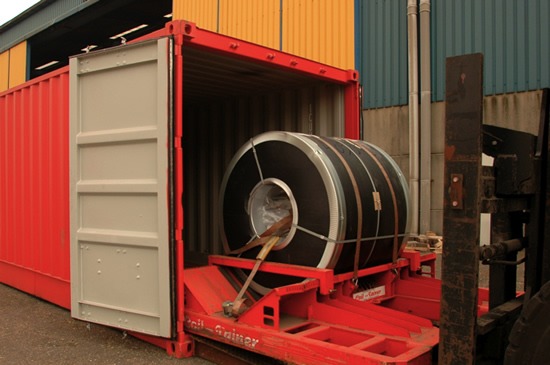 Hemisphere Logistics
Hemisphere Logistics offers an exclusive shipping system designed to transport coils securely - promoting a damage-free, efficient, and economical experience.
The Coil-TainerTM system is specially designed equipment to safely handle coils, up to 25 metric tons. This unique system is patented, with the customer in mind. The steel pallet cradles the coils, which prevents movement or stacking of the coils, thus preventing damage.
Focused on engaging with our customers, the Hemisphere Logistics team members work to create a seamless and trouble-free experience. Our responsiveness provides you with individual personalized service, quick problem resolution, and prompt efficient turnaround. Understanding cargo details and the needs of customers are essential to providing the best possible service. Every shipment is treated with the utmost importance.
Through an expansive service network, Hemisphere Logistics is able to deliver your cargo to the world. We have tradelanes that we use on a regular basis and through our steamship carrier relationships; we are able to expand this network to accommodate our customers' needs.
Hemisphere Logistics / Coil-TainerTM is recognized by the American Metal Market as an industry leader and has been Award Winner and Finalist for "Steel Excellence, Logistics/ Transportation Provider of the Year" several times.